2009/10 Basketball Cards
Shop our Selection of 2009/10 Basketball Card Boxes and Cases. Many of the 2009/10 Basketball Products Contain Rookies from Blake Griffin, Ricky Rubio, Jonny Flynn, Tyreke Evans, James Harden, Brandon Jennings and Stephen Curry!
---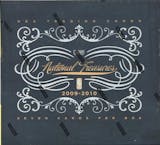 6 Autographed or Memorabilia Cards Per Box. 1 Numbered to #99 Parallel Per Box. On-Card Jumbo Prime Material Rookie Cards. NBA Logoman combos and Signature Trios and Quads. Look For Stephen Curry...
$2,999.95
$2,799.95
---

---

16 Cards Per Pack. Look For Stephen Curry Rookies! Look For Blake Griffin Rookies! Look For Autographs!!!
$24.95