Comic Books
Dave & Adam's is excited to carry a wide selection of unique and hard to find comic books. Featuring many of your favorite characters such as Spider-Man, Batman, and Superman. Whether you are looking to invest in some CGC graded comic books, or find that missing comic book featuring Dr Doom; this is the place!
The highest graded Detective #27 in existence!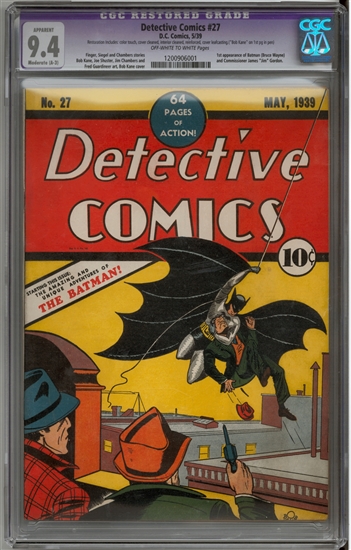 $595,000.00
Dave & Adam's Card World has acquired the highest ever graded copy of Detective Comics #27, the comic that features the very first appearance of Batman. Seeing that such a monumental piece of comic history has arrived here at the Dave & Adam's Comic-cave, we've decided to create an in-depth guide to Detective Comics #27, one of the most revered comics of all time.
The Guide to Detective Comics #27
Shop by Age, Publisher, or Character
Comic Age
Comic Publisher
Character
Featured Comic Books
New Comic Books
Shop more New and Recently Acquired Comic Books
---
Have comics to sell?
Dave & Adam's will pay you cash for your comics! We are looking for:
Vintage Comic Books and Comic Book Collections (Cover Price $0.15 or Less)
CGC Graded Comics