2009/10 Basketball Cards
Shop our Selection of 2009/10 Basketball Card Boxes and Cases. Many of the 2009/10 Basketball Products Contain Rookies from Blake Griffin, Ricky Rubio, Jonny Flynn, Tyreke Evans, James Harden, Brandon Jennings and Stephen Curry!
---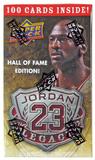 Each set contains (100) cards! Four Bonus Retro Cards Per Set! 1986 Fleer Rookie reprint card! The Beckett book value for this set is $322!!! Look for RARE AUTOGRAPHS!
$200.00
$39.95
---

---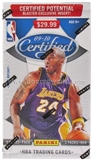 3 Packs Per Box, 5 Cards Per Pack. One Autograph or Memorabilia Card per box. Find Blaster Exclusive Certified Potential Cards. Find Exclusive Kobe Bryant Memorabilia Cards.
$49.95