2008 Baseball Cards
We feature a large selection of 2008 baseball card boxes, sets, and packs.
---
Look for (1) Autographed Bowman Chrome Prospect Card per box!! Look for Jason Heyward, Carlos Santana, and Mike Stanton Refractors and Printing Plates!2008 Bowman Chrome Baseball picks up where...
$45.95
---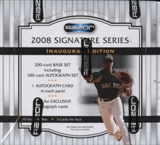 One Autograph card per pack! (10 per box!!!)10 packs per box, 5 cards per pack200 card set - Cards 1-100 are base cards - Cards 101-200 are serial numbered Autographed cards to 199, 25 & 5Look...
$42.95
---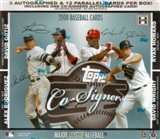 Every box contains 3 Autographed cards including 1 Co-Signers Dual Autographed Card! Some signatures featured in this set include Topps EXCLUSIVES Ryan Howard, David Wright and Alex Rodriguez as...
$169.95
---

Each factory sealed set contains 660 cards (536 Veterans, 60 Rookies, 30 Manager, 10 League Leaders, 2 Rookies of the Year, 2 League MVPs, 2 Cy Young Award Winners, 10 Classic Combo, and 8 Post...
$49.95
---

---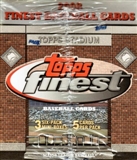 Look for (3) Autograph Cards per box!!Key Rookies: Joey Votto, Clay Buchholz, Daric Barton, Nick Blackburn. SET FEATURES: * 3 Autographed Cards Per Master Box! 1 Per Mini-Box! * NEW! 1 Franchise...
$99.95
---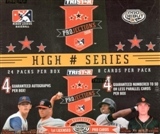 24 packs per box, 8 cards per packTop Prospects found in this set include: Nick Hagadone, Jacob Arrieta, Sean Rodriguez, Neftali Feliz, Joshua Vitters, Clayton Kershaw, Jharmidy DeJesus, Brett...
$36.95
---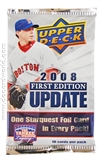 One insert card in every pack, on average! Starquest parallels receive bonus kids rewards points! Collect historic Yankee Stadium legacy insert card for your chance to win a Yankee Stadium dream...
$1.00
---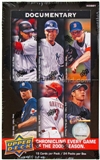 1 Autograph and 24 parallels per box!24 packs per box, 15 cards per pack * One (1) Seasonal Signature in every box, on average! * Twenty Four (24) Gold Parallels per box, on average! * Collect the...
$28.95
---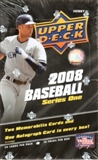 16 Packs per box, 20 Cards per packLook for 2 Memorabilia cards and 1 autograph card per box on average. Collect the entire 400 card regular set. Find one rookie exchange card per box on average. ...
$64.95
$49.70
---

2008 Upper Deck Series 2 Baseball Rack Box (18 Packs) 36 Cards Per Pack!2 Diamond Collection inserts per pack, try for autographed versions.
$14.95
---

36 Cards Per Pack!2 Diamond Collection inserts per pack, try for autographed versions.
$1.25
---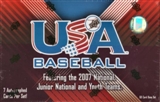 Complete 60 Card Set. Includes 7 Autographed Cards. Includes 2 Game Used Memorabilia Cards. Look for Name Plate Cards. Eric Hosmer, Justin Smoak & Brian Matusz.
$59.95