2008 Baseball Cards
We feature a large selection of 2008 baseball card boxes, sets, and packs.
Featured Products
---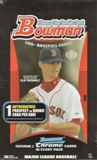 Find (1) Autographed Prospect or Rookie Card in every box!Each PACK contains (2) Bowman Chrome Cards!!Key Rookies: Hiroki Kuroda, Luke Hochevar, Evan Longoria, Johnny Cueto, Matt Joyce, Max...
$89.95
$49.95
---
Look for (1) Autographed Bowman Chrome Prospect Card per box!! Look for Jason Heyward, Carlos Santana, and Mike Stanton Refractors and Printing Plates!2008 Bowman Chrome Baseball picks up where...
$45.95
---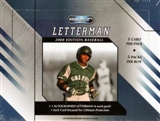 Five Autographs per Box!!!-(1) Autographed Letterman card in every pack! - Look for redemptions for complete Team USA game worn jerseys!1 card per pack, 5 packs per boxLook for Gordon Beckham,...
$59.95
$39.95
---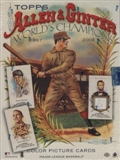 24 packs per box, 8 cards per packTwo Autographs, Relics, Printing Plates, or Allen and Ginter Original Cards Per 24-Pack Hobby Box! Also for the first time ever look for Ancient Icon Cards and...
$169.95
---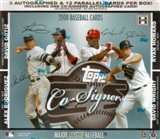 Every box contains 3 Autographed cards including 1 Co-Signers Dual Autographed Card! Some signatures featured in this set include Topps EXCLUSIVES Ryan Howard, David Wright and Alex Rodriguez as...
$169.95
$115.55
---

Each factory sealed set contains 660 cards (536 Veterans, 60 Rookies, 30 Manager, 10 League Leaders, 2 Rookies of the Year, 2 League MVPs, 2 Cy Young Award Winners, 10 Classic Combo, and 8 Post...
$54.95
---

A great gift idea for the Holiday Season! These sets top the list of baseball fans and collectors alike!Each complete set of 2008 Topps Baseball contains 660 Cards and a Five-Card set of 2008 Rookie...
$48.95
---

---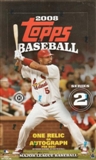 36 packs per box, 10 cards per packLook for the rare unnumbered card featuring Cubs star rookie Kosuke Fukudome!Look for Dual Relic and Autographed Relic Cards!! Find ALL NEW Campaign 2008...
$39.95
---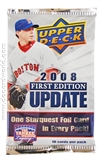 One insert card in every pack, on average! Starquest parallels receive bonus kids rewards points! Collect historic Yankee Stadium legacy insert card for your chance to win a Yankee Stadium dream...
$1.00
---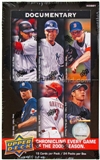 1 Autograph and 24 parallels per box!24 packs per box, 15 cards per pack * One (1) Seasonal Signature in every box, on average! * Twenty Four (24) Gold Parallels per box, on average! * Collect the...
$28.95
---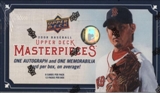 Each box contains (1) Canvas Memorabilia Card and (1) Canvas Autograph Card!! '08 Masterpieces is comprised of a 120 card base set featuring all new artist's paintings of MLB stars! Unlike other...
$69.95
---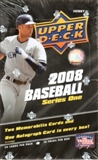 16 Packs per box, 20 Cards per packLook for 2 Memorabilia cards and 1 autograph card per box on average. Collect the entire 400 card regular set. Find one rookie exchange card per box on average. ...
$64.95
$44.95