Just In Sports Cards, Sports Cards Back in Stock
In the Just In section you'll find products we've just got back in stock or older things we've never had until now.
---

---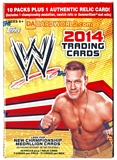 Each box includes 1 Championship Medallion, Swatch Relic or SummerSlam Mat Relic!!Look for Authentic Undertaker Event-Worn Relics!!Approximate odds per pack of finding (*Sequentially Numbered):Base...
$19.99
$9.95