2010 Baseball Card Boxes
Shop our selection of 2010 Baseball Card Boxes and Cases!
---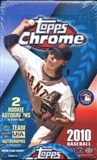 24 packs per box, 4 cards per pack. 2 On-Card Autographed Rookie Cards per box! Find exclusive Team USA Autograph Cards! Possible Strasburg, Stanton, Castro RC's!
$69.95
---

---
Each complete set of 2010 Topps Baseball contains 661 Regular Cards, the complete series 1 and 2 set, plus the Rookie card of Stephen Strasburg!!!Bonus five card pack of Exclusive Angels cards, each...
$29.95
---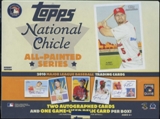 24 Packs Per Box, 8 Cards Per Pack. 3 Game-Used Memorabilia or Auto's Per Box! Collect the 330 base-card set!
$94.95
$79.95
---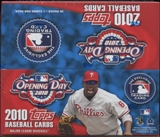 BASE CARDS 220 players, including a preview of 74 base card subjects from Topps Baseball Series 2, plus a checklist cardKey Rookies: Brandon Allen, Buster Posey, Madison Bumgarner, Wade Davis, Ian...
$34.95
---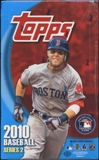 36 packs per box, 10 cards per pack. 1 Autograph or Relic Card per Hobby Box! 1 Red Hot Rookie Redemption Card Per Box! Find Jason Heyward Rookies!
$44.95
---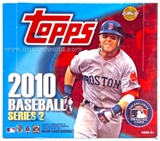 10 Packs Per Box, 48 Cards Per Pack. 1 Autograph and 2 Relic Cards Per Box. Look for Rare Autograph Relic Cards. 1 Cap Logo Card Per Box. Look for Jason Heyward Rookies.
$79.95