2005/06 Basketball Cards
Shop a large selection of 2005/06 basketball card boxes, sets, and packs. Many of these products contain the rookie cards of Chris Paul, Andrew Bynum, and Deron Williams!
---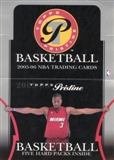 5 packs per box, 15 cards per packEach Hard Pack contains 8 cards. Key rookies include: A.Bogut, D.Williams, C.Paul, M. Williams and many more!!! PRODUCT BREAKDOWN: NOW IN A BOX: UNCIRCULATED CARDS...
$249.95
---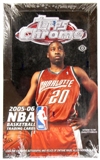 24 packs per box, 4 cards per packFind (1) Game-Used Memorabilia Card per box on average! Look for Hobby exclusive uncirculated blue-bordered X-Factor box loaders! Look for key rookies such as: ...
$169.95
---

---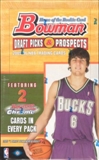 24 Packs per Box, 7 Cards per PackLook for (1) Autograph Card and (1) Game-Used Relic Card per box. Each pack will contain (4) Bowman, (2) Bowman Chrome, and (1) Bowman Gold Parallel. Look for key...
$69.95
---
Topps is the first major product of the year that features all the rookies from the recent draft. Look for rookies such as: Andrew Bogut, Marvin Williams, and Chris Paul and many more!36 packs per...
$54.95