2005/06 Basketball Cards
Shop a large selection of 2005/06 basketball card boxes, sets, and packs. Many of these products contain the rookie cards of Chris Paul, Andrew Bynum, and Deron Williams!
---

---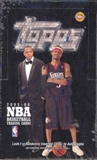 Topps is the first major product of the year that features all the rookies from the recent draft. Look for rookies such as: C.Paul, A.Bogut, M.Williams, D.Williams and many more!!!12 packs per box,...
$64.95