2007 Baseball Cards
We feature a large selection of 2007 baseball card boxes, sets, and packs.
---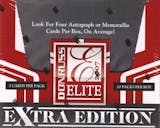 20 packs per box, 5 cards per pack. 4 Autograph or Memorabilia cards per box. Bumgarner, Price 1st autograph cards!
$149.95
$92.10
---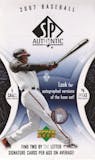 Find two By the Letter Signatures in every box on average. Look for redemptions for the By the Letter entire last name. Pull one Dual, Triple, Quad Autograph or Auto Parallel of the base set in...
$89.95
---

---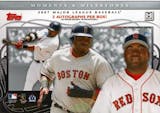 18 packs per box, 6 cards per packTry for Matsuzaka Rookies !!!Look for (2) Autograph Cards per box on average!! Each pack contains a Parallel Cards! This is a set like no other, with no common...
$114.95
$76.45
---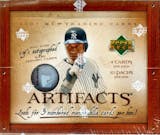 Please Note: Box has Red Security Tape on it!!!
$66.95
---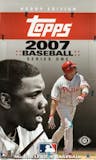 36 packs per box - 10 cards per packThis is the most talked about baseball product in years!! Making the rounds on every major news, television, and radio story is the Derek Jeter card with George W....
$64.95
---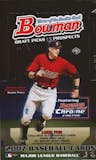 24 packs per box, 7 cards per pack. Look for (1) Autograph Card per box. Heyward, Bumgarner, Longoria prospect cards!
$48.95