2005 Football Cards
Shop our selection of 2005 football card boxes, sets, and packs. Many of these products contain rookie cards of Derek Anderson, Frank Gore, Marion Barber, Braylon Edwards, Ronnie Brown, and Aaron Rodgers!
---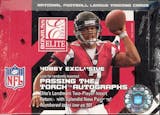 20 packs per box, 5 cards per packKey Rookies: Aaron Rodgers, Alex Smith, Vincent Jackson, Roddy White, Brandon Jacobs, Braylon Edwards, Cadillac Williams, DeMarcus Ware, Kyle Orton, Shawne...
$169.95
---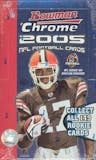 18 packs per box, 4 cards per packLook for (1) Autographed Card per box! Each pack yields (1) NFL Rookie Card. Look for key rookies such as: AARON RODGERS, Justin Tuck, Frank Gore, Alex Smith,...
$129.95
---

---
24 packs per box, 8 cards per packLook for three memorabilia cards per box!!!! Look for key rookies swuch as: A. Rodgers, C.Benson, C.Williams, M.Williams, A.Smith, B.Edwards, R.Brown and many...
$109.95