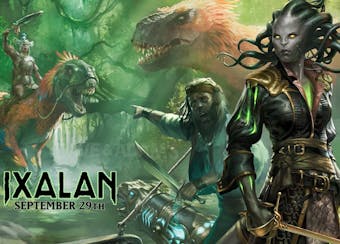 Magic the Gathering Ixalan Booster 6-Box Case (Presell)
Share:
Please Note
As an Authorized Internet Retailer with Wizards of the Coast, we can only ship current Magic the Gathering sealed products within the U.S and its Territories.
Magic the Gathering Ixalan Booster 6-Box Case (Presell)


For centuries, the untamed jungles of Ixalan have hidden a coveted secret: Orazca, the city of gold. But no secret can remain undiscovered, and no treasure can be taken uncontested. Unfurl your sails, saddle up a dinosaur, and battle your rivals as you embark on a journey to claim the plane's greatest fortune for yourself!

36 Packs per Box, 6 Boxes per Case

Manufacturer:

WOTC

Product:

Magic the Gathering

Series: Ixalan
UPC/Barcode:
Release Date: September 29th, 2017
How Do Pre-Orders Work?
Pre-Order this Case and it will ship on the manufacturer release date. (Estimated: September 29th, 2017)
Manufacturer release dates are subject to change.
This Case requires a deposit of just $69.95. The remaining balance of $495.00 is due three days before the release date. We will contact you for payment on the balance.
If you choose to cancel a Pre-Order your deposit will not be refunded.
What is the Dave and Adam's Pre-Order Guarantee?
If you Pre-Order a product from us and we lower the Pre-Order price; contact us and we'll refund the difference! We also guarantee that all Pre-Orders will be fulfilled. Buy with confidence!
×