2008 Football Cards
We feature a large selection of 2008 football card boxes, sets, and packs. Many of these products give you a shot at rookie cards from Joe Flacco!
---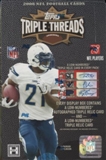 Each mini box contains one (1) pack of 3 numbered Topps Triple Threads Football Base cards PLUS 2 numbered Parallel cards PLUS 1 numbered Triple Relic card. A numbered Autographed Triple Relic card...
$219.95
---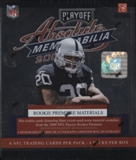 4 Packs Per Box. (4) Autographs or Memorabilia Per Box! Find Joe Flacco RC's!
$159.95
---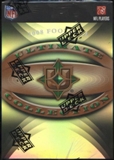 Find Randomly Inserted Tiger Woods Autograph Cards!!1997 Lives!! Find one 1997 Legends Autograph Card updating the renowned 1997 Legends Set in EVERY case, on average! " Eight to Nine (8-9)...
$134.95
$99.95
---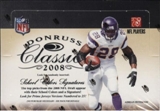 18 packs per box, 5 cards per pack. (3) Autographs or Memorabilia Cards Per Box! Look for Joe Flacco RC's!
$99.95
$84.95
---

---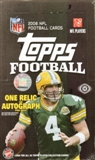 36 packs per box, 10 cards per pack. (1) Autograph or Relic Card per box!! Find Joe Flacco RC's!!
$69.95
$59.45
---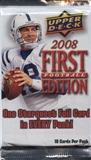 Get one foil Starquest insert card in EVERY pack! Collect all of the top 2008 NFL Rookies like Chris Johnson, Felix Jones, Joe Flacco, Matt Forte, Ray Rice, Chad Henne, Darren McFadden, DeSean...
$1.00
---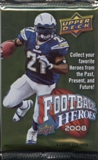 Key Rookies: Chris Johnson, Matt Ryan, Darren McFadden, Donnie Avery, Joe Flacco, Jonathan Stewart, Devin Thomas, Brian Brohm, Felix Jones, Jordy Nelson, Chad Henne, Rashard Mendenhall, James Hardy,...
$1.00