2006 Football Cards
Shop our selection of 2006 football card boxes, sets, and packs. Many of these products contain rookie cards from Reggie Bush, Matt Leinart, Jay Cutler, Maurice Jones-Drew, Mario Williams, and Joseph Addai!
---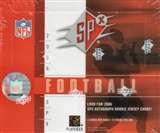 2006 Upper Deck SPx Football Complete Set 1-213 with rookies 2006 Upper Deck SPx Football Base Set with rookie (NM-MT) cards 1-90 91 Haloti Ngata Rookie #/1299 92 Willie Reid Rookie #/1299 93...
$1,299.95
$301.85
---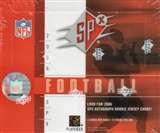 Look for (2) Game-Used Memorabilia Cards, including (1) Numbered Rookie Autographed Jersey Card, per box on average!! Find Swatch Supremacy and Winning Materials Cards!! Key Rookies include: Reggie...
$59.95
---

---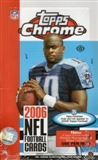 24 packs per box, 4 cards per pack1 Rookie or Refractor parallel in every pack!Key Rookies include: Reggie Bush, Matt Leinart, Vince Young, A.J. Hawk, Sinorice Moss, DeAngelo Williams, Vernon Davis,...
$53.95
---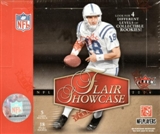 Find (1) Clear Path to Greatness Plexi Glass Card in every case on average!! Look for randomly inserted Fresh Ink Autographs, Serial Numbered Rookies, Letter Patch Cards!! Also look for 2 jersey...
$42.95
---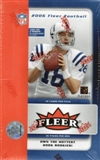 36 packs per box, 10 cards per packLook for Game-Used Memorabilia Cards of the best players in the NFL! Find randomly inserted Autograph Cards of this year top Rookies!! Rookie Cards ARE NOT short...
$24.95
---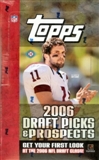 24 Packs per Box, 5 Cards per Pack. Look for Autograph & Memorabilia Cards! 1 Rookie card per pack! Reggie Bush, Vince Young and Jay Cutler Rookies!
$26.95
$23.95