Just In Sports Cards, Sports Cards Back in Stock
In the Just In section you'll find products we've just got back in stock or older things we've never had until now.
---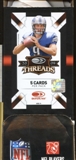 Look for Century Stars Materials - featuring a Jersey Swatch and numbered to 250!!Look for key rookies: Arian Foster, Austin Collie, Matthew Stafford, Mark Sanchez, Knowshon Moreno, Chris Wells,...
$19.95
---
This box is loaded with great rookies!!!36 packs per box, 12 cards per packInserts: Red Siege (1:3 packs) Offense, Inc. (1:16 packs) Dream Team (1:72 packs) Red Siege Artist's Proof (1:36 packs)...
$17.95
---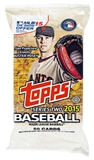 2015 Topps Baseball Series 2 wraps up the biggest base set in a decade! With the 350 base cards in Series 2, collectors can complete their 2015 base set of 700 cards! Returning are all the big hits...
$16.00
---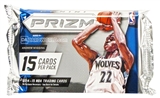 * Prizm Hobby Jumbos return with an all-new configuration and more of the stunning Prizm technology that has captivated collectors every year since its debut.Find 22 Prizms in every Hobby Jumbo box,...
$16.00
---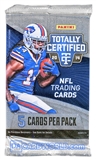 Look for the reintroduction of the Rare Mirror Etched Foil Technology.One memorabilia or autograph card per pack. (Reward Points may take the place of an autograph)One Rookie or Rookie Parallel per...
$8.50
---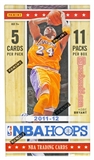 11 packs per box, 5 cards per pack. Look for limited Kobe Bryant Black Mamba cards. Find RETAIL EXCLUSIVE "BIGS" Cards.
$19.99
$6.95
---

---
2 Cards per pack Try for Low numbered parallels, Cracked ice, Patches, & Autographed Cards. Cracked Ice /25 Pyramid /10Look for Mariota, Winston, Gurley, & Many more!
$5.95
---
Find One 3-Card Pack of Bowman Platinum Purple Refractor Cards in every Value Pack!Fifty-Four Purple Refractor Cards Per Box!Bowman Platinum will be gleaming with beautiful Autographed Refractors...
$5.95
---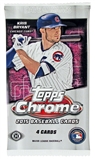 Every year, Topps Chrome gets the best rookie autographs into the hands of collectors. With an exciting group of young stars, 2015 Topps Chrome Baseball is a can't-miss product with colored...
$5.00
---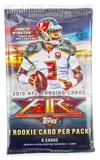 Topps Fire returns with all-new art-inspired designs showcasing the passion and skill of the best from the NFL. Tyson Beck is back as the featured artist, bringing his posterized style that has...
$3.95
---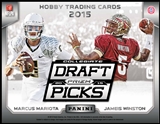 The perfect product for the player collector, Collegiate Draft Picks features 2015 Draft Picks and current stars in their college uniforms highlighted with the vibrant Prizm Parallels.Each box will...
$2.75
---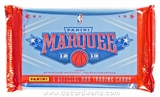 Marquee delivers four different Rookie Sets, five Autograph Inserts including Coaches Autos, 25 Election Night Autographs, and a 100-card Rooki Signatures Insert!Look for five exciting Autograph...
$2.75
---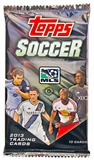 Topps' inaugural Major League Soccer release features a number of autographed and relic cards from this season's top stars and SuperDraft class. Celebrate the Beautiful Game with unique inserts such...
$1.25