PSA Graded Roger Maris Cards
Shop our selection of Graded Roger Maris Cards. Maris was a four time All Star, three time World Series Champion, and a two time AL MVP. Own a piece of history with any Vintage Roger Maris card.
---

---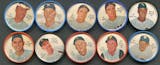 1962 Salada Baseball 60 Coin Lot (57 Different)!!!Here is the list of coins you will receive in this lot: #3 Chico Fernandez #13 Jim Bunning #15 Tito Francona #16 Bobby Del Greco #20 Chuck Cottier...
$240.00
$138.25