2014 Baseball Card Boxes
Shop our selection of 2014 Baseball Cards - Factory Sealed Boxes, Cases, and Packs!
Featured Products
---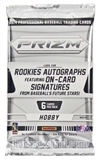 Find On-Card Autos featuring: Mike Trout, Manny Machado, Jose Fernandez, Buster Posey, Clayton Kershaw, Chris Davis, David Ortiz, Dustin Pedroia, Greg Maddux, Tom Glavine, Pete Rose, George Brett,...
$3.65
---

---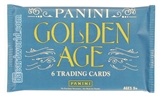 Historic Signatures feature on-card autographs from the world of sports and entertainment. Among the signers: Ernie Banks, Bo Derek, Steve Carlton, Loretta Swit, Dick Van Dyke, Rocky Colovito and...
$2.95
---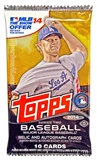 Topps continues to celebrate the wealth of young talent in MLB with 2014 Topps Baseball Series 2. PRODUCT BREAKDOWN:PROMOTIONAL PROGRAMS:Power Players Parallel Code Card (55): Power Players...
$2.75
---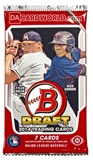 Each pack contains (5) '14 Bowman Draft Picks & Prospects Draft Picks/Top Prospects Cards + (2) Bowman Chrome Draft Picks/Top Prospects Cards. Also look for Autographed cards from past...
$2.60
---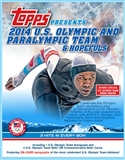 Look for One U.S. Olympic Team Autograph and Two U.S. Olympic Team Relic or Commemorative Relic Cards!Featuring ON-CARD Autographs of the most celebrated U.S. olympic Team Athletes!Celebrate the...
$1.25