2013 Football Card Boxes
Shop our selection of 2013 Football Card Boxes and Cases.
Featured Products
---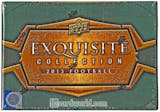 1 Pack Per Box, 6 Cards Per Pack. Each Box contains Five Hard-Signed Autograph Cards. Features 2013 & 2014 rookie autographs. Manuel, Lacy, Allen, Manziel, Watkins & Bortles! Look for hand-painted...
$209.95
$184.95
---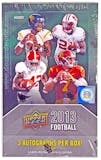 20 Packs Per Box, 6 Cards Per Pack. (3) Autographs Per Box! (2) Ultimate Collection RC's # to 599 Per Box! Find College Mascot Manufactured Patch Cards! Find Namath and Sanders College Football...
$32.95
---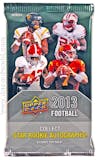 Find (2-3) Rookie Cards Per Pack!Look for Rookie Lettermen Signatures, Ultimate Collection Rookie Signatures, Star Rookie Autographs, 1995 SP Football Autographs, 1995 SP Prospects Autographs, and...
$1.95
---

---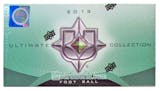 1 Pack Per Box, 4 Cards Per Pack. One Autograph Card Per Box. One Memorabilia Card Per Box. One Rookie Card numbered to 199 or less Per Box. NEW! Ultimate Collection Rookie Sig Book Cards.
$99.95
$49.95