2013 Football Card Boxes
Shop our selection of 2013 Football Card Boxes and Cases.
Featured Products
---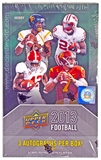 20 Packs Per Box, 6 Cards Per Pack. (3) Autographs Per Box! (2) Ultimate Collection RC's # to 599 Per Box! Find College Mascot Manufactured Patch Cards! Find Namath and Sanders College Football...
$29.95
---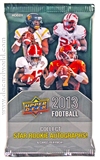 Find (2-3) Rookie Cards Per Pack!Look for Rookie Lettermen Signatures, Ultimate Collection Rookie Signatures, Star Rookie Autographs, 1995 SP Football Autographs, 1995 SP Prospects Autographs, and...
$1.95
---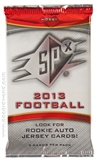 Look for Autographed patch cards and multi-signed parallels!Look for ever popular SPx Shadow Box cards with a new twist - dual player Shadow Box cards for the first time ever!!Single memorabilia...
$4.95
---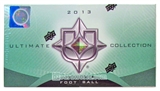 1 Pack Per Box, 4 Cards Per Pack. One Autograph Card Per Box. One Memorabilia Card Per Box. One Rookie Card numbered to 199 or less Per Box. NEW! Ultimate Collection Rookie Sig Book Cards.
$59.95
$51.95
---

---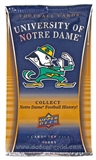 Celebrate the tradition of Notre Dame Football with a comprehensive trading card set featuring some of the most notable names in Fighting IrishTM history!Find Autographs of Irish Legends, including...
$1.75
---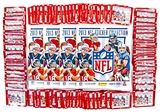 Lot contains (4) 72 page albums & 100 packs. 100 Packs, 7 Stickers per pack = 700 Stickers.
$50.00
$19.95