2009 Baseball Cards
Shop our selection of 2009 Baseball Card Boxes and Cases!
---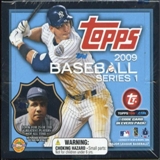 Look for (1) Autograph and (2) Relic Cards per box on average!!Find (1) Numbered Legends of the Game Nickname Letter Patch in EVERY HTA Jumbo Box!2009 Topps Baseball introduces Legends of the Game...
$199.95
---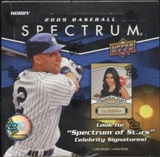 Find (1) Memorabilia Card and (2) Autographs per box, one of which will be a Spectrum of Stars celebrity autograph card, on average!20 boxes per case, 14 packs per box, 5 cards per packCONTENT...
$99.95
---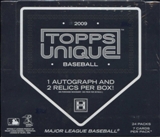 24 packs per box, 7 cards per pack. One Autograph Card Per Box. Two Memorabilia Cards Per Box.
$109.95
$93.45
---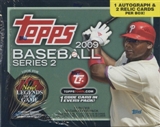 Look to find (3) game-used memorabilia or autographed card per box (on average)!Each pack contains 45 Topps Baseball cards Plus 1 Legends of the Game card, 1 Turkey Red Continuity card, 1 Ring of...
$69.95
---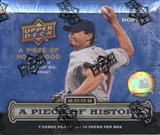 16 packs per box, 7 cards per pack. 3 Memorabilia & 1 Autographed Card Per Box. Look for Hollywood & MLB Memorabilia Cards. Base Set Includes 50 Historical Moments Cards. Collect Rookie Autographs.
$64.95
---

---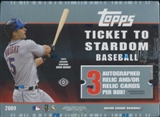 20 Packs Per Box, 11 Cards Per Pack. Three Ticket Relics or Autographs Per Box. Find Yu Darvish Memorabilia Cards.
$69.95
$59.45
---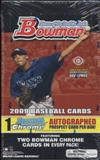 24 packs per box, 10 cards per pack. 1 Bowman Chrome Autographed Prospect Card Per Box. Find Yu Darvish WBC Prospects Cards!
$56.95
---

660 Regular Cards. 10 Hobby Exlusive Rookie variation cards! Full Color Display Box!
$54.95
---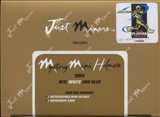 This product is a Dave and Adam's Card World exclusive!!Each mystery box will contain (1) Autographed USA Mini- Helmet and (1) Autographed card!Dave and Adam's Card World has teamed up with Just...
$39.95
---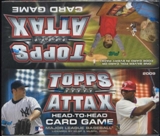 Each booster pack contains (3) Topps Attax Baseball batter cards, (1) pitcher card and (1) one code card OR silver foil card. Baseball meets the Gamer head on - perfect for Fantasy Baseball nuts, as...
$32.95
---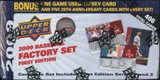 -Look for the complete 400-card Upper Deck First Edition! This set includes 100 cards from Upper Deck Series 2 featuring all the up to date 2009 traded players and top new rookies!-Five 20th...
$9.95
---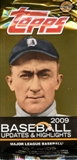 Look to pull (3) Game-Used Memorabilia or Autographed cards per box (on average)!Key Rookies: Aaron Cunningham, Alcides Escobar, Dexter Fowler, Juan Miranda, Travis Snider, Mat Gamel, Michael Bowden,...
$7.95