2009 Baseball Cards
Shop our selection of 2009 Baseball Card Boxes and Cases!
---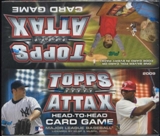 Each booster pack contains (3) Topps Attax Baseball batter cards, (1) pitcher card and (1) one code card OR silver foil card. Baseball meets the Gamer head on - perfect for Fantasy Baseball nuts, as...
$32.95
$21.10
---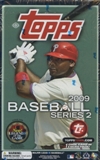 Look for (1) Game-Used Memorabilia or Autographed Card per box (on average)! 36 packs per box, 10 cards per packKey Rookies: David Freese, Trevor Crowe, Trevor Cahill, Andrew Bailey, Brett Anderson,...
$39.95
---

---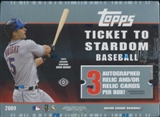 20 Packs Per Box, 11 Cards Per Pack. Three Ticket Relics or Autographs Per Box. Find Yu Darvish Memorabilia Cards.
$69.95
$50.55
---

660 Regular Cards. 10 Hobby Exlusive Rookie variation cards! Full Color Display Box!
$54.95
---

Each complete set of 2009 Topps Baseball contains 660 Regular Cards plus one (1) ten-card set of 2009 Rookie Variation Cards; packed in a shrink-wrapped, full-color display box!PRODUCT...
$59.95
---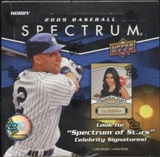 Find (1) Memorabilia Card and (2) Autographs per box, one of which will be a Spectrum of Stars celebrity autograph card, on average!20 boxes per case, 14 packs per box, 5 cards per packCONTENT...
$99.95
$69.95
---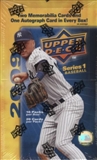 Look for (2) Game-Used Memorabilia Cards and (1) Autographed Card per box on average!!Find Team USA Memorabilia Cards, UD 20th Anniversary Cards, and O-Pee-Chee Insert Cards!!Key Rookies: David...
$79.95
---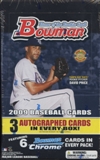 12 packs per box, 32 cards per pack. 1 Bowman Chrome Autographed Prospect Card Per Box. 2 additional Autograph Cards Per Jumbo Box. Find Yu Darvish WBC Prospects Cards.
$99.95
---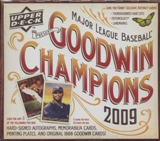 5 cards per pack, 20 packs per box. Three Memorabilia or Autograph Cards Per Box.
$129.95
---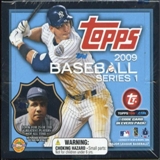 Look for (1) Autograph and (2) Relic Cards per box on average!!Find (1) Numbered Legends of the Game Nickname Letter Patch in EVERY HTA Jumbo Box!2009 Topps Baseball introduces Legends of the Game...
$199.95
---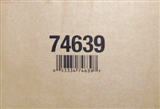 20 Packs Per Box, 5 Cards Per Pack. 4 Autographs or Memorabilia Cards per Box. Find Bryce Harper Jersey Cards & Autographs. Blue Platinum Parallel Set #'d to 170. Collect Autographs of Top Rookies &...
$1,399.95