2006 Baseball Cards
We feature a large selection of 2006 baseball card boxes, sets, and packs.
---

659 cards and 2-five card packs per setA great gift idea for the Holiday Season!! Each set includes every base card from both 2006 Topps Series 1 & 2 in a shrink-wrapped, full-color display box...
$29.95
---

---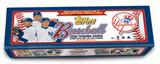 659 cards per set, one 5-card Yankees Rookie and Veteran Variation PackEach set will also include (1) bonus pack featuring 5 Yankee Rookie and Veteran Variation Cards!! These cards will only be...
$49.95
$39.95
---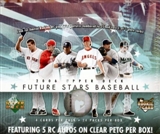 24 packs per box, 4 cards per packLOADED WITH AUTOGRAPHS AND ROOKIES !!!Find (1) Rookie Signature Red Ink Parallel numbered to 35 PER CASE!!Look for (5) Rookie Signature Cards per box on average!!...
$44.95
---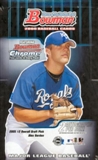 12 packs per box, 21 cards per packLook for (2) Autographed Rookie Cards per box on average!!! Key Rookies: Ryan Zimmerman, Kenji Johjima, Justin Huber, Craig Hansen, Hanley Ramirez, Jason Botts,...
$67.95
$48.95
---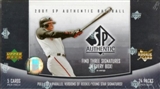 24 packs per box, 5 cards per pack. 3 autograph cards per box. Weaver, Liriano and Papelbon RC's! Look for Jeter, Mauer and Griffey Jr. Autos! 1 auto will be a Letterman Full-Size Letter patch.
$79.95