2006 Baseball Cards
We feature a large selection of 2006 baseball card boxes, sets, and packs.
Featured Products
---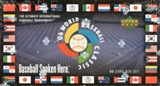 2006 Upper Deck World Baseball Classic Factory Box Set1 Derek Jeter 2 Ken Griffey Jr. 3 Derrek Lee 4 Dontrelle Willis 5 Alex Rodriguez 6 Jeff Francoeur 7 Roger Clemens 8 Johnny Damon ...
$12.95
---
24 packs per box, 8 cards per packFind (2) Game-Used Memorabilia Cards and (1) Gold Parallel Card in every box on average!! Look for Retro Lucky 13's and randomly inserted Autographs!!Key Rookies:...
$48.95
$41.85
---
Look for (3) Game-Used Memorabilia Cards and (1) Mickey Mantle oversize card per box!! Find Topps exclusive Mickey Mantle and Barry Bonds Cards!! Each box will contain (24) Stickers, Comics, Window...
$52.95
$47.65
---

---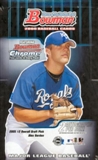 12 packs per box, 21 cards per packLook for (2) Autographed Rookie Cards per box on average!!! Key Rookies: Ryan Zimmerman, Kenji Johjima, Justin Huber, Craig Hansen, Hanley Ramirez, Jason Botts,...
$67.95
$61.95
---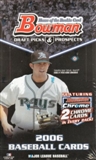 Look for (1) Autograph Card and (1) Game-Used Memorabilia Card per box on average!! Look for Exclusive Bowman Propsect Cards and Futures Game Relic Cards!!Each pack delivers (2) Bowman Rookies, (1)...
$109.95
$93.45
---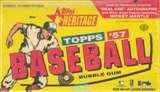 Look for Autograph and Relic Cards with a combined insertion rate of 1:36!! Look for Topps Exclusive Mickey Mantle Cards and an expanded autographed retired player lineup from 1957.Key Rookies: Danny...
$134.95
$114.70