2005 Baseball Cards
Shop a large selection of 2005 baseball card boxes, cases, and packs.
---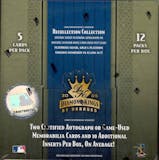 Look for (2) Certified Autograph or Game-Used Memorabilia Cards and (10) additional inserts per box on average.Key Rookies: Justin Verlander, Ambiorix Concepcion, Wladimir Balentien, Keiichi Yabu,...
$174.95
---

---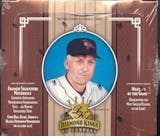 Find (1) Autographs and (2) Game-Used Memorabilia Cards per box. PRODUCT HIGHLIGHTSONE INSERT IN EVERY PACK, INCLUDING NEW INSERTS: "HOF SLUGGERS" & "MASTERS OF THE GAME"!~;~NEW LEGENDS: WILLIE...
$219.95
$158.35
---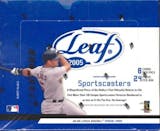 24 Packs per Box , 8 cards packLook for unique inserts featuring pieces from Game-Worn alternate team uniforms (1 per box on average). Also look for Game-Used jersey cards from your favorite players...
$104.95
---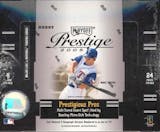 24 Packs per Box, 8 Cards per PackLook for (2) Game-Used Memorabilia Cards or Autographs per box!! Find randomly inserted Fans of the Game - Unique cards and autograph cards from the biggest...
$129.95
$103.95
---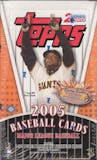 36 Packs per Box, 10 Cards per PackGreat Box for any collector in the Hobby. Look for Exclusive Barry Bonds Autographs, Relics & Commemorative Cards. Also Possible 1 Of 1 Power Brokers Cut...
$64.95
---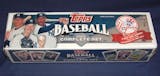 This set contains all 733 cards - Series 1 & 2!! In addition this set will contain a New York Yankees Top Prospect Pack!! Last years Yankees Team Set is almost impossible to find and extremely...
$49.95
---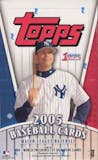 36 packs per box, 10 cards per pack2005 Topps Baseball Series 1 offers these exciting features: Look for 1 of 1 Cut Signatures! Expanded from the greatest US leaders to the most famous leaders from...
$39.95
---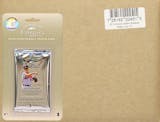 12 Packs Per Box, 5 Cards Per Pack. Look for Game-Used and Autograph Cards! Key Rookie: Justin Verlander.
$29.95