Android Netrunner LCG: Up and Over Data Pack (Presell)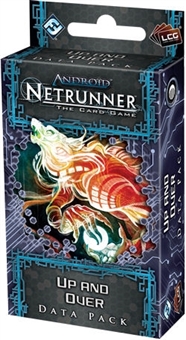 Share:
Android Netrunner LCG: Up and Over Data Pack (Presell)

Up and Over is the fourth Data Pack in the Lunar Cycle for Android: Netrunner. A search for the mysterious aoesource codea leads the game's Runners to the shadiest edges of Heinlein, the moon's only established city. The sixty cards in Up and Over (three copies each of twenty different cards) explore the city's Docklands, where even coordinated corporate crackdowns won't necessarily ferret out every black marketeer willing to provide Runners with a steady supply of illicit technology. In this new environment, to survive you must adapt

Manufacturer:

Fantasy Flight Games

Product:

Android Netrunner

Series:
UPC/Barcode:
Release Date: October 15th, 2014
How Do Pre-Orders Work?
Pre-Order this Box and it will ship on the manufacturer release date. (Estimated: October 15th, 2014)
Manufacturer release dates are subject to change.
What is the Dave and Adam's Pre-Order Guarantee?
If you Pre-Order a product from us and we lower the Pre-Order price; contact us and we'll refund the difference! We also guarantee that all Pre-Orders will be fulfilled. Buy with confidence!
×