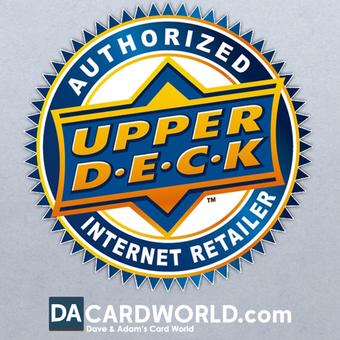 Marvel Doctor Strange Trading Cards 12-Box Case (Upper Deck 2016) (Presell)
Share:
Marvel Doctor Strange Trading Cards 12-Box Case (Upper Deck 2016) (Presell)

Each Box contains One Sketch, Autograph, or Memorabilia Card!

PRODUCT HIGHLIGHTS:

- 50 Card Base Set featuring authentic movie stills, numbered to 150 - with two (2) hobby exclusive LTFX Parallels numbered to 50 (Silver) and 25 (Gold)!
- 7 one-card packs - every card is a hit, printed on thick premium card stock!
- All New Coin Cards embedded with actual legal tender totaling the original price of the comic depicted -look for Stan Lee autographed versions!
- 4 different inserts showcasing various aspects of the film and all numbered to less than 100! Look for Book of Cagliostro booklet cards featuring character bios.
- Look for Actor Autographs, including auto/memorabilia combo cards!
- 1 Sketch, Autograph or Premium Insert Card per box.
- Memorabilia Cards! Authentic material used in the production of the movie! Look for two in every box, including one multi-piece card!


12 Boxes Per Case, 7 Packs Per Box, Card Per Pack


Manufacturer:

Upper Deck

Product:

Marvel

Series:
UPC/Barcode:

053334864930

Release Date: November 9th, 2016
How Do Pre-Orders Work?
Pre-Order this Case and it will ship on the manufacturer release date. (Estimated: November 9th, 2016)
Manufacturer release dates are subject to change.
This Case requires a deposit of just $169.95. The remaining balance of $1,120.00 is due three days before the release date. We will contact you for payment on the balance.
If you choose to cancel a Pre-Order your deposit will not be refunded.
What is the Dave and Adam's Pre-Order Guarantee?
If you Pre-Order a product from us and we lower the Pre-Order price; contact us and we'll refund the difference! We also guarantee that all Pre-Orders will be fulfilled. Buy with confidence!
×
What is an Upper Deck Authorized Internet Retailer?
Take confidence in buying new Upper Deck product from Dave and Adam's.
In the unlikely event there is a product issue with your box or case (damages,collations,missing cards, etc...) Upper Deck Customer Care will be able to assist you. If you purchase new Upper Deck product online from a non-authorized internet retailer Upper Deck will likely not be able to assist.
We are not authorized to sell this product to stores or re-sellers until the product has been out for 90 days.
×